3-in-1 Electric Car Hydraulic Kit
3-in-1 12v Electric Car Hydraulic Lift Jack Kit, Impact Wrench, Tire Inflator Air Pump Emergency and Fixer
This Emergency Car Kit comes FULLY LOADED for multi-functional use. It comes with an electric car jack to lift up your vehicle, a pump to inflate tires, and a power wrench for all repairs. In addition, this device is equipped with a built-in flashlight and plugs directly into your vehicle's electric outlet.

Redesigned to be stronger and more powerful, this emergency kit can comfortably handle up to 5 Tons of car weight.

APPLICATION:
• For vehicle repair and tire replacement.
• Suitable for sedans, off-road vehicles, vans, light-duty trucks or any vehicle
• Favorable emergency tool for garages, repair shops, families and off-road usage.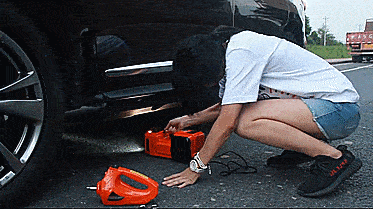 The electric-3-in-1 car jack has a small size which makes it super handy to store right in your car without taking up a lot of space. It comes in a handy hard-shell case that doubles as a reflective-triangle to place behind your car to warn oncoming traffic that you're repairing your car on the side of the road.
Combining the electric car jack with, an automatic impact wrench, and the included work gloves, you'll be able to change your car tire in a pinch without having to have a lot of muscle to pump a standard car jack, or attempt to turn the tire iron using your own strength. An integrated flashlight will light your work area if you happen to need to change your tire at night. Plus, the white work gloves will keep your hands nice and clean while you work.
HOW IS IT POWERED?
The electric 3-in-1 car jack can be plugged into your cars cigarette lighter port (12v), or if that's not working, you can also connect it directly to your car battery using the included battery clips. The car jack has a maximum lifting load of 11,000 lbs (5T), and has a lifting height range of 6.1 inches - 17.7 inches.
FEATURES:

• POWERFUL: Works with 12V vehicle power outlet, 5.0T Jack capacity.
• EFFICIENT: Lifts most vehicles to full range in less than a minute
• CONVENIENT: Easy to operate with a compact and organized storage box
• MULTIFUNCTION: Jack, pump and LED Flashlight can meet multiple demands.
• SAFE: The structure is stable and secure. The machine will stop working when it lifts beyond the height limit.

WHAT COMES WITH IT?
The 3-in-1 electric car jack comes with practically everything you'll need in a car emergency including:
• Electric hydraulic jack
• Electric impact wrench
• Safety hammer
• Plastic tool box
• 2 Double-sided lug nut sockets
• Power cable (10 feet)
• Car battery connecting clamps
• 2 Fuses
• 1 Pair of work gloves
• Reflective safety triangle
• Instruction manual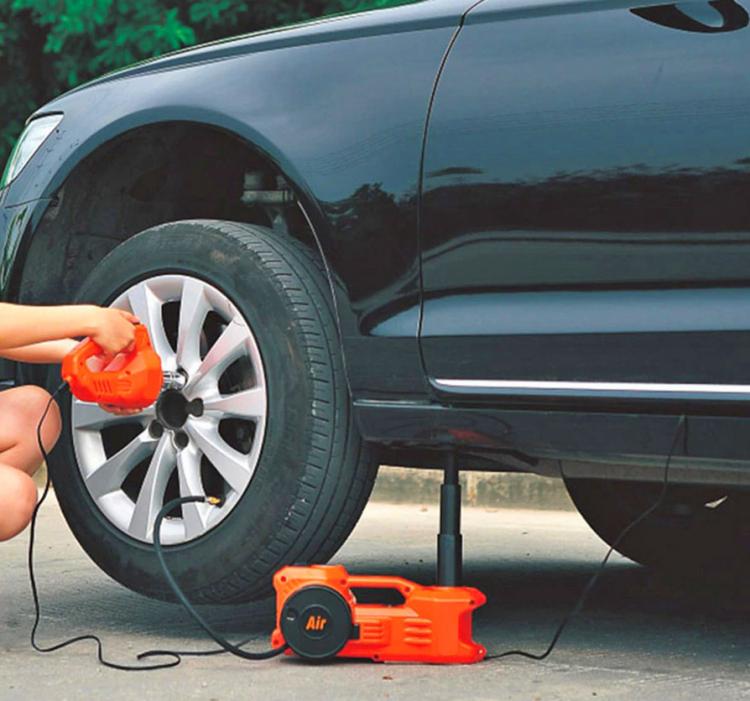 SPECIFICATIONS:
• Input Voltage: 12V DC
• Max Current: 13A
• Rated Power: 150W
• Max Loading: 11000 lb (5.0T)
• Lifting Height Range: 6.1 in. -17.7 in. (155mm-450mm)
• Power Cord Length: 13.1 ft. (4m)

FOR ELECTRIC INFLATOR PUMP:
• Air Flow: 9.2 gal/min (35 L/min)
• Max Pressure: 10 BAR/150 PSI
• Hose Length: 25.6 in. (0.65m)

FOR ELECTRIC IMPACT WRENCH:
• Input Voltage: 12V DC
• Max Current: 12A
• Rated Power: 100W
• Max. Torque: 340N.M
• Cable Length: 3.5 M(11.5 Feet)