Rear View Camera - Backup Camera for Truck - Rv Backup Camera
Reverse Camera - Rear View Camera - Rear Camera for Car
Stay safe with a backup camera system. This Rv Backup Camera makes it easier to see what's behind your vehicle when you are parallel parking, pulling out of a tight garage or backing up. Easily spot children and pets in blind spots and traffic while driving with our Reverse camera for car. The IP69 waterproof rating of this wireless rear view camera means that it can withstand a variety of weather conditions from snow, rain or even mud.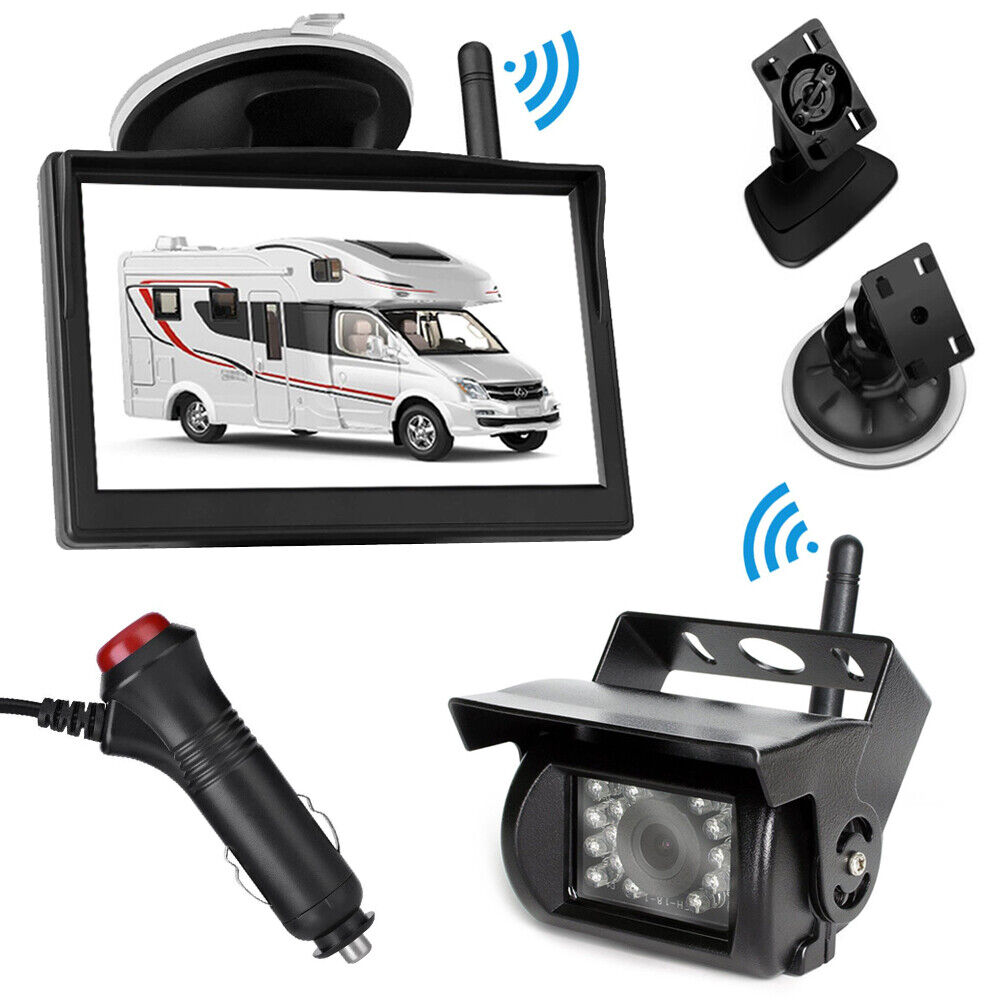 Our wireless backup camera will provide you with the information you need to have a safe and enjoyable time, whether you're driving your truck and trailer or backing up to low clearance areas. Our 2.4GHz wireless signal extends over 1000 feet away from the camera, helping you stay connected to everything in your rig, even when parked in the middle of nowhere.
With this wireless backup camera system, you can enjoy a safer driving on the road, this is the Best Backup Camera, It is easy to install, and allows you to see clearly right behind your vehicle. The camera is made of high-quality material, so it is durable and waterproof. 
Features:
5-Inch HD TFT LCD Widescreen Monitor with Built-in 2.4GHz Wireless Receiver 
Backup Reverse Camera W/ Built-in 2.4GHz Wireless Transmitter --IP69 Waterproof Rate Camera Lens, with 18 individual Infrared (IR) LED.  It help your view still clearly at night or in bad weather.
Wireless Signal Effective range: 10m(33ft). Can fit most truck, Class A/B/C RV, Van, Trailer, Mini Bus and so on Vehicle.
With 2 Video Input--The video 1 can used to reverse and the video 2 can used to watch DVD / VCD / TV / GPS .
Easy to DIY. The system come with lighter adapter with on/off with 10ft power wire for monitor plug and play. Backup camera connected to the reversing light power or other 12-24V Power.
IP69 waterproof grade can cope with marine environment. Hard Metal Cased Camera ,Waterproof and Mud proof. It can last for longer without heating up, so you can show the rear View all time.
The monitor can be connected one more camera via RCA cable. Connected to the yellow RCA connector of the AV1 (AV2 for wireless camera). The white connector is useless, needn't be connected.
Product Specification:
2.4GHz analog wireless 5-inch monitor
Operating Frequency: 2400-2483.5 Mhz Standard: 2370Mhz
Transmission distance: 10 meters
Compression format: MPEG 4 video
Transmit frequency:18 dBm
Transmission speed:12 Mbps
FHSS: Frequency Hopping Spread Spectrum
Hopping rate:1200 / S
Screen size: 5-inch 16:9
Resolution: 800RGB x480 dots
TV System: PAL / NTSC
Operating voltage: 12V / 24V DC
Power: ≤8.64W
Operating temperature: -10 ℃ to + 65 ℃
2.4GHz analog wireless camera
Standard NTSC: 510 * 492 pixels, PAL: 510 * 582 pixels
Resolution: 420 TVL
Lens: 2.5mm
Minimum illumination: 0Lux (LED ON)
Infrared light: 18pcs
Night vision distance:10 meters
Waterproof: IP69
View angle:120
Operating voltage: 12 / 24V DC
Operating temperature: -20 ° C ~ + 70 ° C
Shell material: Aluminum
Mount material: Metal
Package Includes:
1 x 5 inch Car Monitor
1 x Car back up Camera
2 x Antennas
2 x Power Cable
1 x Suction Cup
1 x Mount Bracket
1 x Lighter adapter with on/off

1 x  User Manual