Smart Eye Massage with Heat

COMPACT AND FASHION DESIGN: Vacatime eye massager exudes an image of luxury and refinement. It is set in womanly warmth of an elegant shape. The unique 180° foldable design allows you to pack it into your bag and make a quick massage possible anywhere. With the adjustable elastic straps, both female and male can easier find their proper size.
INTELLIGENT AIR PRESSURE & VIBRATION MASSAGE: Our eye massager provides moderate air pressure & vibration strength. With 2 intensities available, it gives eyes acupoint massage to relieve eye fatigue, eye strains, dry eyes and headache.
COMFORTABLE HOT COMPRESS: This eye massager is built-in heating pad that offering a moderate temperature between 100.4 to 107 degrees Fahrenheit (38℃-42℃) and heating up within 1 or 2 seconds. It can stimulate blood circulation around your eyes, improve dark circles and sleeping quality. With the high or low temperature available, you are easy to switch the comfortable temperature as you needed.
BLUETOOTH CONNECTION: Our eye therapy massager features built-in speakers inside and allows you to connect via Bluetooth to play your song list
:WIRELESS & RECHARGABLE: Vacatime's eye care massager with built-in 850mAh rechargeable lithium battery can last 60-90 mints on a full charge, which allows to make an eye massage trip anytime and anywhere. After using 15 minutes, it will be automatically stopped to save power.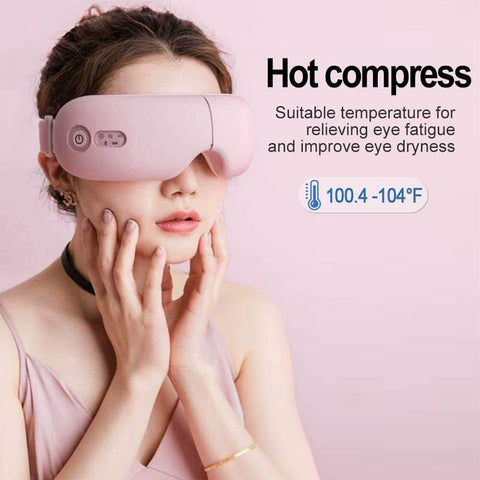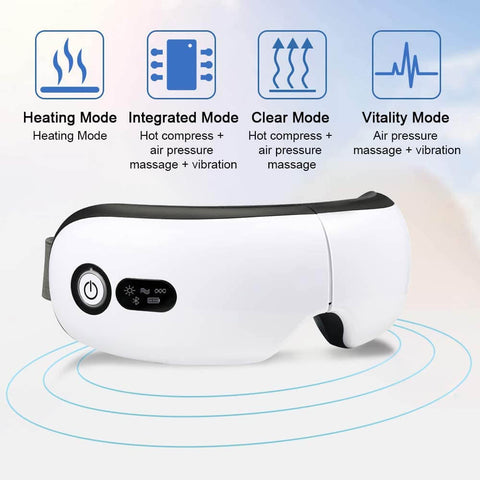 Specifications:
Automatic timing:
15 minutes
Rated voltage:
 DC 5V
Rated power:
 3.4W
Product folding size: 
15x10x9(cm)/5.9x3.9x3.5(in)
Product unfolding size: 
30x10x9(cm)/11.8x3.9x3.5(in)
Packing size: 
20x14.5x10(cm)/7.8x5.7x3.9(in)


Packing list:
1x Eye massager
1x Charging cable
1x Eye Massager Manual