TWOTOO everlasting Love Signal Bracelet
Water Resistance: Waterproof
Connection: Bluetooth 5.0
Compatibility: IOS & Android system
Materials: Zircon, stainless steel
Size: Adjustable.Men: 17-21cm; Women 15-18.5cm
Battery Life: 15-30 days according to your usage.
Packaging & accessories: Button Battery 
Sharp Weapon: Sharp Weapon(N)
Electrified: Electrified(Y)
Totwoo sends touch over distance so that you can feel your loved one, wherever they are. 
Syncing up - keep the app and your bracelet connected and you'll never miss a flash
No matter you are in a long distance relationship or just separate for a short period of time. Totwoo can connect you with your significant other, and let them know that you are thinking of them.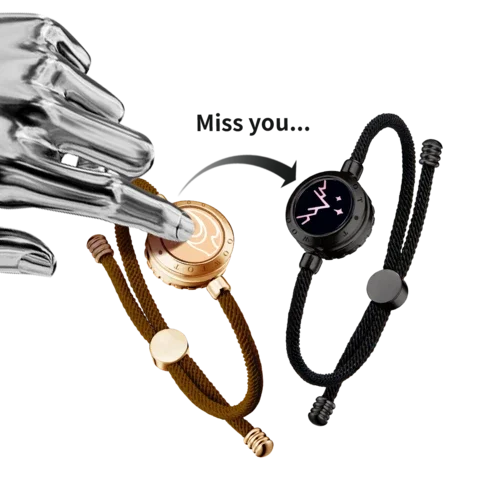 DESIGN CONCEPT
My heart is, and always will be yours.
- Jane Austen
The design is inspired by the classic meaning of the Chinese classic "The Book of Songs" which is the mountain and the sea alliances each other.
The designer also uses simple and three-dimensional lines to outline the shapes of "mountains" and "sea." It Symbolizes indestructible everlasting love. 
Even though there are thousands of miles away from the mountains and the ocean, but I will still be able to travel across them to see you.
FUNCTIONS
An exquisite, handcrafted piece of jewelry that offers loved ones an intimate way to connect online. A traditional Totwoo jewelry powered bu modern technology.
 1. Send a love code 
Touch the bracelet or send messages via totwoo app to notify them. It's a unique way to let them know while you're thinking of him/her.
2. A Private chat for two
Share secret messages that only be seen by two of you. Totwoo app offer you a more personal way to stay connected with your loved ones.
3. App & Notifications
Totwoo connects you with your loved ones in a smart and unique way.
Create Surprise Messages!
Decision-making
Call Notifications
Daily horoscope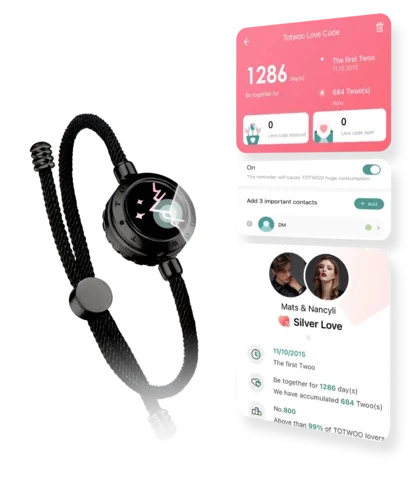 4. Customizable reminder colors
You can set reminders by selecting a LED color of your liking from Totwoo app.
HOW TO FIRST SET UP TOTWOO BRACELETS